A "match made in heaven" is how our Director of Exhibitions & Special Programs Erin Wolfe Bell described the fit between the Garden and Patricia Cavazos, the artist behind our new spotlight exhibition, ORIGINS: Patricia Cavazos, on display in Fogg Café through May 29.
How very true!
Cavazos encapsulates virtually every element we've sought to capture in our 2022 – 23 season, Mexico: A Celebration of Plants & Culture, from her cultural themes and references to nature, to her vibrant color palette, to her fascination with Mexican painter Frida Kahlo, whom we celebrate in the Frida and Her Garden exhibition.
Cavazos, an Orlando-area resident, was born in Mexico and lived in Coyoacán, yes, the same Mexico City borough where Kahlo resided in her famed blue house, La Casa Azul.
"Living there, I think, is what attracted me to art," Cavazos says during her recent visit for the exhibition's opening weekend. "The suburb is really pretty, and, to me, the Frida Kahlo house is the jewel of the place." She remembers begging her parents, "Please take me to the house, take me to the house. I think I made a connection there."
It's a funny thing, how our pathways are laid out in childhood, she muses. There were other influences as well. Her paternal grandmother was a seamstress, and she remembers playing with fabric, and learning to embroider and knit under her tutelage. Her maternal grandmother enjoyed crafting, too.
Even so, her road to professional art was not linear. Cavazos, who came to the United States in 2000, began as an architect. Her husband's job took the family to Germany for some years. During that time, Cavazos worked at a performing arts school where she managed costume design and assisted with scenery creation. She loved the creativity. When they returned to the U.S. in 2016, she decided to pursue art more seriously, enrolling in the Crealdé School of Art in Winter Park. An instructor encouraged her to exhibit her work, and soon thereafter, Cavazos' professional career was born.
Cavazos, now a multimedia artist, began with painting, a skill she had developed as part of her architectural training.
"I really like abstracts," she says. "It's more about emotions — it's kind of like externalizing what is inside." She carried that style into her textile art, the medium on display in ORIGINS.
Cavazos thinks in colors — pinks, reds, oranges, yellows. Sometimes she assigns herself artistic exercises, like limiting herself to just two. She grins: "It never works."
In high school, a teacher assigned a book on Mayan mythology, which sparked her interest in history, myth, and folklore. She grew particularly interested in the Aztecs, which had once populated the Mexico City region where she had resided.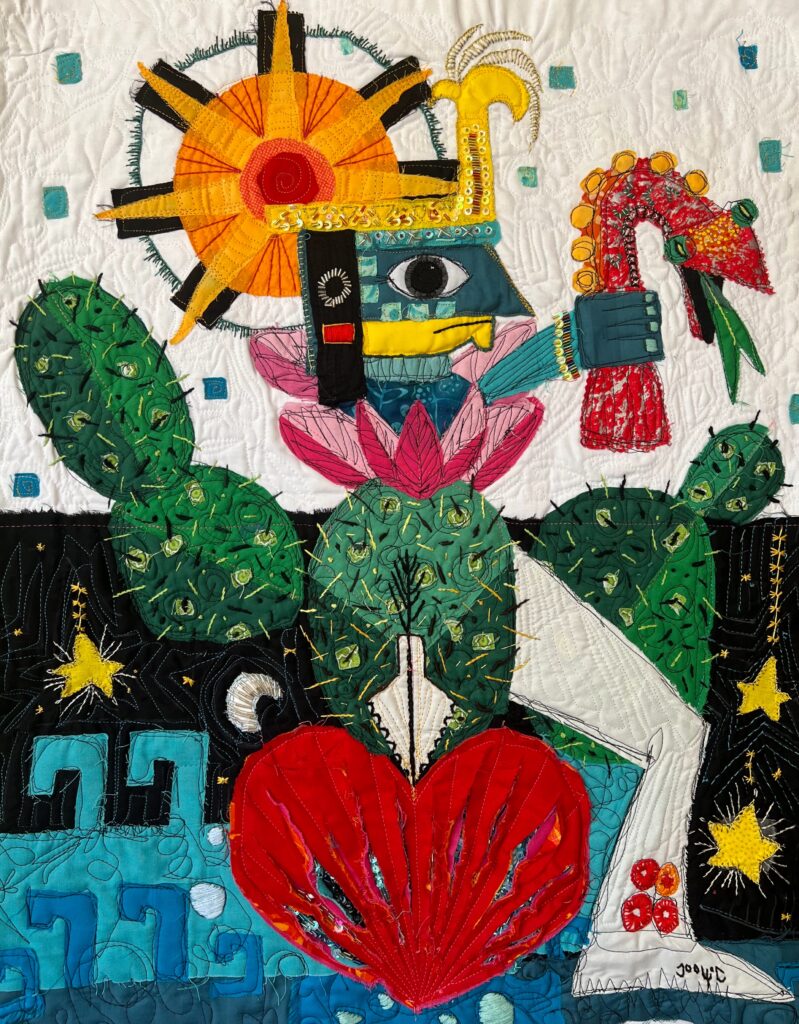 The works on display in the Café depict, for example, a mythical Aztec lake; Quetzalcóatl, a feathered serpent; and Mictlantecuhtli, the god of the underworld, catching souls as they arrive. Four smaller pieces represent the four elements, alluding to the connection between ancient peoples and the natural world. Cavazos creates her images using an assortment of fabrics, embroidery, beads, and other embellishments, such as mesh, to add texture. Her textile art can be appreciated from a distance, where viewers can take in the totality of the image or up close, where they can see the intricacy of her stitching.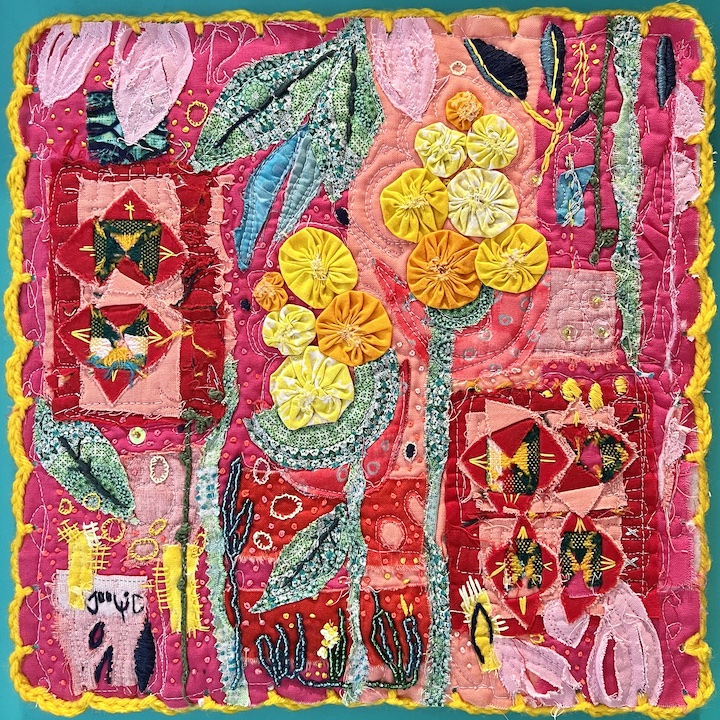 For Cavazos, creating culturally themed art is a way of staying connected with her heritage.
"I think once you are out of the culture where you grew up, you value it more," she says. "To me, this is a way of trying to reconnect."
ORIGINS: Patricia Cavazos is included in Garden admission; free for Members.

This article supports this year's theme, Mexico: A Celebration of Plants & Culture, which highlights one of the most biodiverse places on Earth and celebrates cultural connections to the natural world.
---
About the Author
Jennifer Reed is the Garden's Editorial Director and a longtime Southwest Florida journalist.