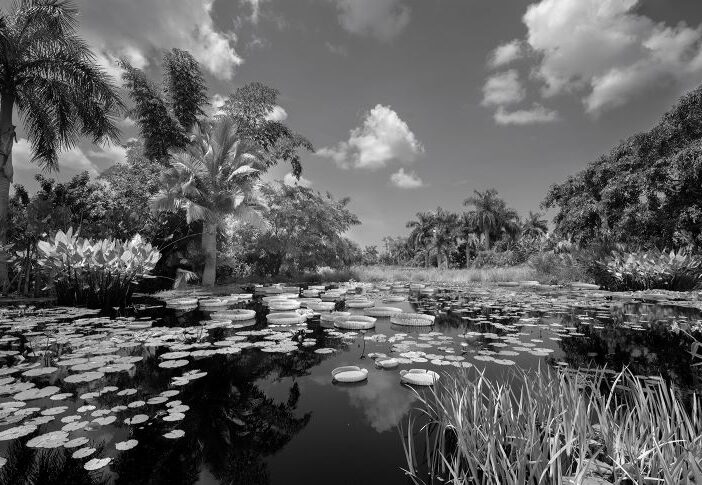 We wish we could fit all of Clyde Butcher's favorite photos of the Garden into Cultivate, our Member magazine, but we simply have too much other Garden news to share! As a treat, enjoy these additional photos from Florida's eminent landscape photographer. To view the rest, read the Cultivate summer issue.
---
"It was like going out to the Garden of Eden."
That is the highest of praise for any botanical garden employee, especially when the compliment comes from eminent Florida nature photographer Clyde Butcher. Clyde and his wife, Niki, spent a month at Naples Botanical Garden in August 2021, exploring the cultivated gardens and the 90-acre Preserve that is more akin to Clyde's usual subjects, Florida's swamps and wildlands.
He loved exploring both kinds of spaces, those designed by landscape architects and our staff and those sculpted by Mother Nature.
"I could tell there was a lot of effort putting the plants to work together to create artistic representations of nature," Clyde says.
Unsurprisingly, Clyde, renowned for his photographic exploration of the Everglades, gravitated to the water. The Garden was built around water features. They serve as showcases for our robust aquatic plant collection, as panoramic viewsheds, and as a stormwater management tool.
"One of the things that I thought was really exciting was the use of water to connect everything," he says. "To me, that was important because Florida is all about water."
Clyde's Garden collection, like his other works, is in black and white. He valued his extended stay because it allowed him to study and photograph various light conditions.
"Photography is all about light. 'Photo' is light. 'Graphy' is recording. So it was really important to have all the different lights — morning light, afternoon light, overcast light. I'm not looking for beautiful sunsets and sunrises because it's black and white. Black and white is about composition and texture."
---
One of the Garden's most serene spots is one that guests glimpse from a car window. On the corner of Bayshore Drive and our entrance is a waterlily pool flanked by foliage and accented with three fountains fashioned from large rocks. We created it to set a tone for your upcoming Garden experience, but Clyde thinks it does much more than that. He pulled off the driveway, studied it, and treated it as a piece of art.
"It's a beautiful spot, and you'll never see it by driving. You've got to stop and look at it," he says.
---
Tucked between the Scott Florida Garden and the Lea Asian Garden is a quiet, grassy spot we call the Grove. A few years ago, we installed waterlily pools where we can showcase more of our collection and grow competition plants for the International Waterlily & Water Gardening Society. We've hosted its New Waterlily Competition for several years, giving our guests a chance to see the world's best and newest hybrid creations.
"I like that you can get right up close to the flowers. You don't have to walk into the water," Clyde says. "I also like the composition of the plants all around it, the palms and the ferns. I just don't know how to describe it other than it's a pretty neat little place." In the background is Rainbow Root by sculptor Steve Tobin, part of the Garden's permanent collection.
---
This is one of the lilies Clyde photographed in the Grove. To him, "it's more a composition than it is a flower," he says, citing the arrangement of the pads, the textured flower, and the buds, getting ready to open.
"It was just an amazing little shot."
---
If you were to look for photos of Garden guests on Instagram, surely you will see the Kapnick Caribbean Garden trellis splashed across their feeds. The columns are made of oolite and festooned with Queen's wreath (Petrea volubilis) and blue trumpet vine (Thunbergia grandiflora) that periodically burst into lilac-colored blooms. Of course, you can't see color in Clyde's black-and-whites, but his composition beckons viewers to explore the scene, nonetheless.
"This whole thing was alive; even the columns had a life to them," Clyde says. "And you see this pathway and it feels like it keeps going and going, and you keep wanting to walk. It's beautiful."
---
Clyde had photographed the Garden long before it was the Garden. One of his goals was to revisit a pine tree he had captured some 20 years ago. At that time, he had trekked through the brush; now, Clyde joins other guests in enjoying a much more accessible Preserve with sandy trails and paved pathways that allow people an up-close view of native species like this towering slash pine.
---
This narrow stream flows near the Thai pavilion in the Lee Asian Garden.
"It's another little spot that probably nobody sees," Clyde says. He likes using his camera to reveal places others may miss.
This article originally appeared in the summer issue of Cultivate, the Garden's magazine.
---
About the Author
Jennifer Reed is the Garden's Editorial Director and a longtime Southwest Florida journalist.
---