To source the materials for her art, Dusty Holmes need only look around her. Seed pods, clay, pine needles — anything found in nature is fair game.
Holmes is an artist and artisan the likes of which you don't come across every day. Her specialty: pine needle weaving. She gathers hundreds of pine needles found right here in Naples, Florida. Then she parboils them, removes the caps, and while the needles are still moist, weaves them one by one into a coil to form a basket.
"Using pine needles and other products of nature to create functional pieces is a great way to show that even after Mother Nature has shed her skin, human nature can still reap countless benefits," says Holmes, who has been honing this work for more than 10 years.
It's a time-consuming but purposeful process. A small basket with a simple weave can take upward of 15 hours to weave, but the end product can last for many, many years.
Catch a glimpse of this incredible artistry at work this Saturday, April 30, as Holmes demonstrates the weaving portion of her craft from 11am – 2pm. Holmes' work, along with that of four other local artists, will be on view through June 26 in Kapnick Hall as part of the Woven: Fiber Arts Now exhibition.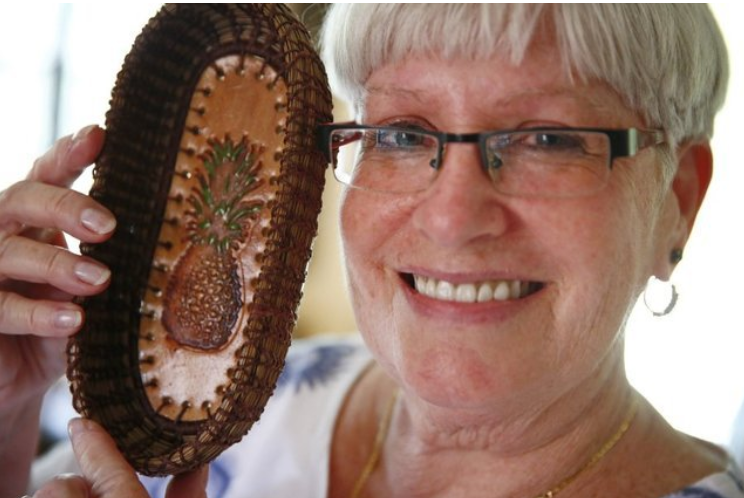 Holmes transitioned to the art world in 2008, when she started working in clay. Prior to then, her career focused on nursing, specifically in the intensive care unit — "a completely different mindset," as she puts it. The switch in her life's work came not long after a move to Naples in 2007 from Albuquerque, New Mexico. Now, it's not uncommon for Holmes, who maintains a pottery studio in Bonita Springs, to work in these materials, with some projects utilizing clay woven into the baskets. Inspiration for combining pottery and pine came from Dusty's close friend and teacher, the late Georgia Hortin, a master pine needle weaver, who felt each medium could enhance the other.
Her career switch into art has allowed Holmes to forge connections not only with her environment, but with the people in her sphere of influence, as well.
"Some of my favorite interactions with people are when they have something special from a deceased loved one that they want woven into a basket so that they have something lovely to pass on to their family," she shares.
Each day, people who have purchased one of Holmes' creations can be reminded of this connection with the natural world, as these baskets aren't designed solely to accent a shelf or table.
"All of my baskets are made for everyday use," Holmes says. "They are very sturdy, and pine needles are very stable, so once they are woven, they should last for generations to come."
Dusty Holmes will be in the Garden on Saturday, April 30 from 11am – 2pm, and again on May 7 and June 25, at the same times. During the demonstrations, Holmes will have additional baskets available for purchase. A portion of proceeds from each sale will benefit the Garden.
The demonstrations and Woven exhibition are included with Garden admission, free for Members. Additional artist demonstrations will be on May 14, 18, and June 18, all from 11am – 2pm.
Before your visit, learn more about Holmes' creative process in the Winter issue of Cultivate, the Garden magazine.
---
About the Author
Jenny Fuentes is the Content Manager at Naples Botanical Garden. She is a communications professional with experience in the nonprofit and higher education arenas. It's the thrill of a good story that keeps her anchored to this profession.