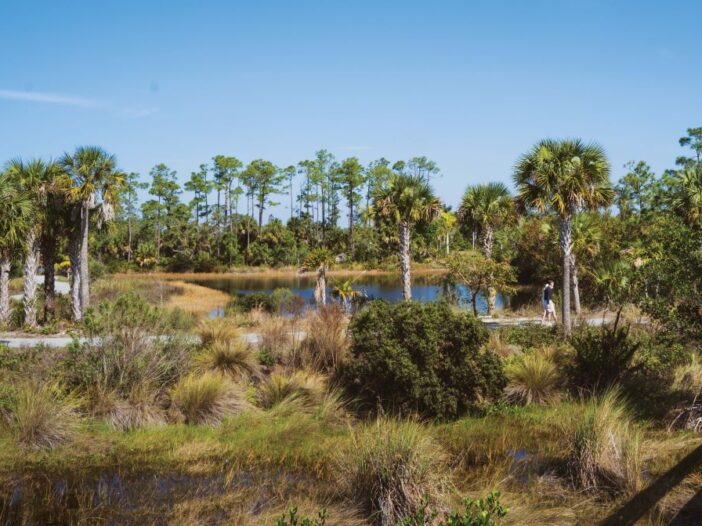 Jessica DeYoung, the Garden's Conservation Horticulture Manager, explains why she collects native plant seeds for our seed bank and, someday, your yard
I'm wandering down an animal trail, weaving between shrubs and immersed in vegetation until I step into a field, allowing me a panoramic view of my surroundings. The scrub habitat of our Garden's Preserve is known for its open sandy patches and intriguing plant diversity. During my first year of seed collections, I don't see the environment for what it is; in fact, I'm not seeing a field at all.
As the Garden's Conservation Horticulture Manager, I'm blinded by the excitement of looking for native plant species to collect, grow, and conserve for long-term safekeeping. Unfortunately, much of the public is oblivious to our native plants in general. My hope: that through plant conservation, I can make these species visible.
Our region abounds with plant diversity, although most people don't know it. I can't really blame them. A typical Southwest Florida residential or community landscape is limited to a handful of tried-and-true ornamental plants. Local home improvement stores and commercial nurseries tend to stock those same familiar species. I understand their reasoning: Most retailers offer hardy, common generalists that can handle a wide variety of conditions, expanding their consumer radius. But the practice limits our exposure to and appreciation of the plants that make Southwest Florida unique.
You won't see Southwest Florida natives adequately represented in botanical gardens, either. That's because, we, too, are limited to what our suppliers carry. The solution is in reach, however. With correct legal permissions, we collect seed from the wild and grow these plants ourselves.
The Garden targets everything from the seeds of tiny wildflowers, like pineland scalypink (Stipulicida setacea var. setacea), to those of stately hardwoods like Jamaican dogwood (Pisidia piscipula). While we prioritize plants that face the greatest risk of loss, we also collect common wild plants. We are proactive, rather than reactive, once a threat becomes apparent. In addition, we conserve seeds sent from our partners in the Caribbean, whose plant palettes and growing conditions are similar to ours.
We're trying to accomplish several things: to save plant genetics before we lose them in the wild, restore damaged ecosystems, and, eventually, introduce more subtropical and tropical plants to designed landscapes. Let me explain that last point. Did you know we are closer to the Bahamas here in Naples than we are to the northern tip of Florida? In a state nearly 450 miles long and 360 miles wide, what's native to Tallahassee may not be native to Naples. Bluntly speaking, we often put the wrong plants in the wrong places. This can be an expensive mistake — economically and environmentally. Economically because they often fail to thrive or succumb to disease. Environmentally because a poorly placed plant may require more fertilizer and water to grow. We hope to someday share plants specific to subtropical Southwest Florida and the tropical Caribbean with landscapers and local governments to ensure we're growing the right plants in the right places.
My work is ever under pressure, underscored by the impacts of climate change. Successfully conserving our native species is a lengthy process that involves researching growing techniques and generating enough seeds for restoration and long-term storage. If we don't collect these seeds now, we may not have these plants for the future.
I think back to those early days of seed collecting in the scrub. We've come such a long way! I'm thankful and proud to see plants growing and producing a new generation of seeds that we can store long term or use in restoration projects. We give back what we gathered, growing and multiplying generations of new native plants. In time, they will be the foundation for reviving our environment. Stay tuned for the good our Garden can create. I know I will.
This article originally appeared in the 2022 issue of Conserve.
About the Author
Jessica DeYoung is the Conservation Horticulture Manager at Naples Botanical Garden. In her free time, she loves to hike in old-growth ecosystems, a fun contrast to her daily work conserving seeds and nurturing tiny, new plants.